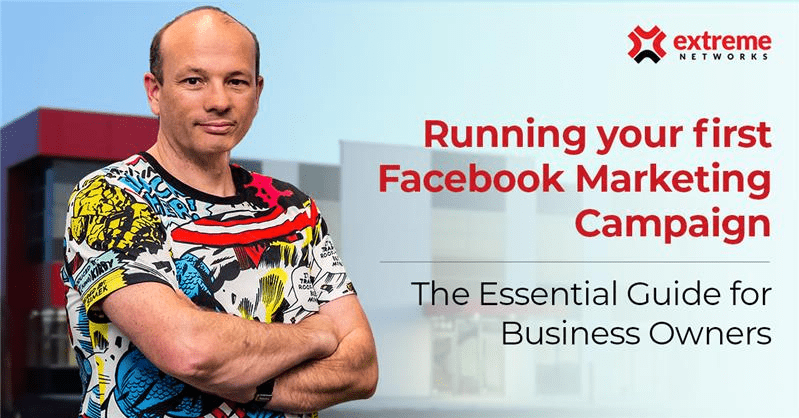 Monday, May 24th , 2021.  Facebook Ads Marketing Seminar:
Running your first Facebook Marketing Campaign.  The Essential Guide for Business Owners.
Join James from Extreme Networks as he shares his methodology for designing and executing Facebook campaigns.
The team at Extreme Networks has used Facebook to:
 Attract customers as far away as London and Las Vegas;
Build a podcast network audience that has seen over 1.4 million downloads of our podcasts;
James will go through his process for running a campaign and then we will look at the businesses in the seminar and devise campaigns that will meet the objectives that you want for your business.
Bring your laptop and follow along because this seminar will give you everything you need to run successful Facebook campaigns.
Where: Extreme Networks  144 Colemans Road,  Carrum Downs VIC 3201
When: 24th MAY 2021, 5:30 – 8:30pm
Cost:  $25 per person  – (Extreme Labs and Extreme Customers who are interested can contact us to reserve a seat at no charge)
Book here: https://www.eventbrite.com.au/o/extreme-networks-5291828301
What to bring:  your laptop
Food and Drinks provided.
Monday, March 29th.  LinkedLocal.  Calling all people using Linkedin or wanting to use Linkedin better or even to start using Linkedin.  This is a networking event with a bit of a twist.  we will give a short presentation on tips for using Linkedin better, but it is really about meeting people in real life who are on Linkedin and finding better ways to use Linkedin.  Whether your scaling up, marketing, an entrepreneur or hiring, there are plenty of ways to use the power of Linkedin.
Over 1000 small business owners attended our marketing seminars. We are serious about helping you grow your business.  This is one of our sessions that sold out.  Our unique perspective and experience make our seminars highly popular.
All sessions will be held at our purpose built office with a dedicated training room.
To be advised of updates to the training calendar, please follow us on Facebook, or email info[@]extremenetworks.com.au and ask to be added to the email list for training.